NEWS UPDATE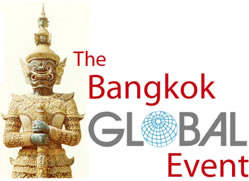 Sustaining Business Growth in the Midst of Crisis :February 24th 2012
Venue: Shangri-La Bangkok Hotel
8.15 Registration and Morning Refreshment
9.00 Welcome and Introduction
9.15 Key Note Speaker: How to Sustain Business Growth in The Midst of Crisis by Dr. Veerathai Santiprabhob
10.00 Portfolio Evaluation by Robert Kyba, Canada

This paper talks aboutnew product launch assessment within a competitive set as nowadays, evaluating a new portfolio of products happens at the global level and at the local level. In this presentation, innovative approaches in both qualitative and quantitative methods are explored and described.
10.35 Coffee Break
11.00 Optimizing The Customer Experience by Using Longitudinal Research Panels by Cris Tarrant, UK

This paper will summarise BDRC Continental's experience of helping service organisations sharpen their customer experience. The presentation will include a series of powerful case studies from some of the UK's largest financial services businesses to bring the technique and its impact to life. The paper will be relevant to all attendees interested in operational service improvement through customer generated insight.
11.35 Brand Booster by Fernand Wiesenfeld, France

This tool's objective is increasing brand attractiveness by defining the most relevant and efficient
communication strategy, allowing a breakthrough in the particular competitive universe.
12.10 Lunch
13.15 Key Note Speaker: Happiness Society by Mr. Danai Chanchaochai
14.00 Discussion Panel on Reenergizing and Expanding Your Business through New Product Development by Sukit Tanskul (Thailand). Ricky Xie (China) and Piers Lee (Singapore)

Currently, many world class corporations collapse as they cannot keep up with drastic change in consumption patterns (Sustaining vs. Disruptive Innovation) .This panel discussion intends to describe how innovative NPD research techniques can save and sustain your business growth
14.45 A New Brand Equity Paradigm Linked to Financial Performance by Tim McPartlin, USA

Relevant Clarity is a proprietary brand equity model that is based on extensive R&D conducted by
Lieberman Research Worldwide. It is designed to measure a brand's current equity, and provide
very specific direction to strengthen it to maximize its financial performance. It is one of the only
brand equity model that is strongly linked to financial performance, and it can be accessed through a very user-friendly desktop simulation tool.
15.20 Tea
15.35 How Mystery Shopping leads Your Business to Grow by Harry Puspito, Indonesia

This paper talks about a research tool for the measurement of service quality which is believed to impact customer loyalty and business growth; it highlights the additional motivational benefit that is not available in other measurement tools, and the experience in the competitive banking industry, particularly in Indonesia.
16.10 The Social Network by Silvio Pires de Paula, Brazil

The nets are a wonderful field to carry out market research studies. The presentation will focus on
some recent statistics, research tools, useful sources and show what is being done by leading net
research companies
16.45 Summing up and Close
Program subject to change. For further information please contact Sukit Tanskul at sukit@c-asia.com or Lesley Stocker at info@agmr.com
May 25th 2012 Details to follow